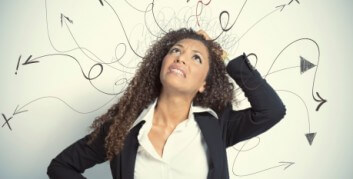 "Lord, What is My Purpose?!"
In college, I can remember interning for CNN, making good money, partying with top executives, yet still feeling so empty inside.
My money, degree, and accolades made me think I had it made.
But, as much as it appeared that I had it going on from the outside, I didn't. With all the great attributes that followed my life, I still didn't feel complete because I lacked a relationship with God.
Unfortunately, even after I found Christ, I still wouldn't let go of parts of my old mindset.
I had God. The Provider. The Healer. The One Who died for me.

Yet, I was still pressed about not having the job I wanted, the title I wanted, and the income I preferred.

"Lord, what is purpose?" "Why am I at this job?!" I would ask Him.
After I asked those questions, God began to show me about what a purpose truly is in Him. I want to share with you what I've learned.
If you've ever wondered about your purpose or what you've been called to do, understand that:
Your ultimate purpose is in love, not a title– Mark 12:30-31 states that God's greatest focus is for us to love Him, love ourselves, and love each other.
Whether you are a doctor, a student, or a McDonald's cashier, your ultimate focus must be love.
Love, as 1 Corinthians 13:4-5 says, means you must have patience, selflessness, and forgiveness with your co-workers, God, and yourself.
As you love for God on your job and in school, you act as a light that draws others closer to Him.
2. You may hate your job…– But, your calling is much greater than your current position . God may have called you to preach, be a lawyer, or own your own business.
Regardless, you still have to be prepared for that calling. He's using your current job to mold patience, trust, and contentment out of you.
How can you manage being a lawyer or business woman when you get stressed out over small matters where you are?
Instead of hating where you are, thank God that He's growing you before elevating you. See your current position as a means to grow into your greater calling.
If you hate your job and you're feeling lost about your purpose, I encourage you to click here to get my free book sample sent to your email to guide you closer to God and joy in your current season.
3. You can't do God's work without spending time with Him– Have you ever recognized that you can use your co-worker's bad attitude as an opportunity to share the love of Christ with her?
Part of our purpose on Earth is to grow closer to God so that we can share the knowledge and love of Who He is with others. But, How can you know how loving God is unless you spend time with Him?
If you are stressed, depressed, or lacking faith at your job, ask yourself if you're giving God His time everyday.
In your time with Him is where you'll gain the peace you need to deal with those annoying co-workers in a loving way. If you need encouragement to spend more time with God or don't know how to, I encourage you to click here to start growing closer to God with my free daily devotionals.
If you want to understand more about your purpose and what God has called you to do…
…Then click here for my free book sample. My book, I Believe in God, Now What? , shares my many battles with hating my job, lacking purpose, and not understanding my worth in Christ. This book is sure to answer your questions about your purpose and draw you closer to what God has called you to do.
To get the FREE book sample, click one of the following links:
Click here if you'd like to receive the book sample.
Click here if you'd like to receive the book sample plus the FREE 27 day daily devotionals (emails sent every weekday morning for 27 days straight).
To get your copy of I Believe in God, Now What? click here.
WIN a FREE autographed copy of my book for the holidays by sending 100-250 words to IBelieveinGodNowWhat@gmail.com about why you're excited to read my book this Christmas! Click above to get the free sample before entering the contest.
Calendar Update: On January 22, I'll be sharing my testimony and speaking to a youth group in Florence, SC about conquering their identity in Christ. Info and Venue:
Faith Kingdom Builders OM
2908 Republic Ave
Florence,SC 29502
Come join us! 🙂
Love,