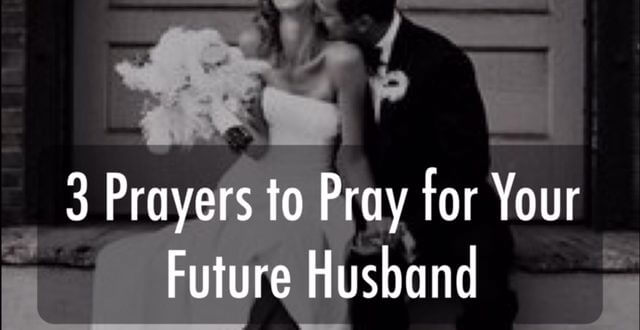 3 Prayers to Pray for Your Future Husband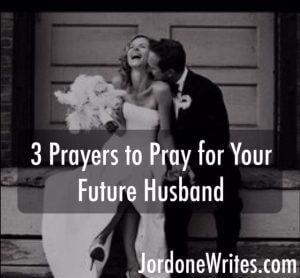 Although I'm currently engaged, there was once a period of time where my fiancee and I had broken up.
During our break up, I really wanted to be with him, but I had no idea about whether God would bring us back together again.
During our break up, I spent a lot of hours praying for Eddie (my fiancee). But, my mistake was that I prayed for him according to my own desires, not God's.
In my prayers, I was so focused on whether or not we would get back together, that I would pray more for our relationship than his soul.
I would say things like, "Lord, whoever his wife is, bless that marriage, even if it's not me." Now, this sounds like a nice prayer. But, my words didn't match with my heart. So, although I was saying something selfless, the desires of my heart weren't matching up with my words.

I was saying one thing in my prayers, but truthfully, I really wasn't content about the idea of him marrying someone else other than me.
Even worse, my words spoke selflessness, but my heart wasn't totally submitted to the idea of trusting God, regardless of the outcome.
As you pray, do you care more about your husband's soul than the idea of being together?
Well, this blog is going to help you. Here's the right way to pray for your future husband and how to encourage God to move according to your prayers:
"Lord, help his soul to be in agreement with your will."– The soul is made up of your will, intellect, and emotions. Clearly, you want the will [actions], intellect [thoughts], and emotions of your man to be in alignment with God. But, more importantly, as you pray this, make sure your will, intellect, and emotions are aligned with God. Hebrews 6:19 tells us that our hope in who God is must be the anchor of our souls. If you are letting anything else other than hope in God keep you grounded, you will run into challenges as you try to pray for your husband from a pure heart.
"Lord, let him be submissive to your timing"– You don't want your husband to find you a second before God's timing. More importantly, make sure that you are also content with God's timing as you pray this prayer. If both you and your husband are submissive to God's timing, it will save you a lot of heartache in your relationship and throughout your marriage.
"Lord help him to lead our family through your Holy Spirit" – As the head of your household, you want to know that your husband clearly hears the voice of the Lord. As his support, you want to also know the voice of the Lord, too. Click here to check out my book if you want to learn more about hearing God's voice. Now, remember that God's voice is in His Word, so the surest way to hear God clearly is through obedience, following His Word, and spending time in His Word. As you pray these request for your husband, make sure you're doing your part to be obedient and spend time with the Lord, too.
A few quick things:
The 700 club – I was recently on the 700 club for sharing my testimony! Praise God! Click here to watch
The Destiny Conference– I'm hosting a Christian Career conference on June 17th. Join us to be inspired, network, and have some fun! Learn more by clicking here.
My book sample– You can now read my book sample for free without signing up for my email list. Click here to read.
Love,
Have you ever prayed for your future husband and wondered whether God was actually hearing you? Have you ever asked God for a husband but felt discouraged because you didn't get what you wanted immediately? Comment below…